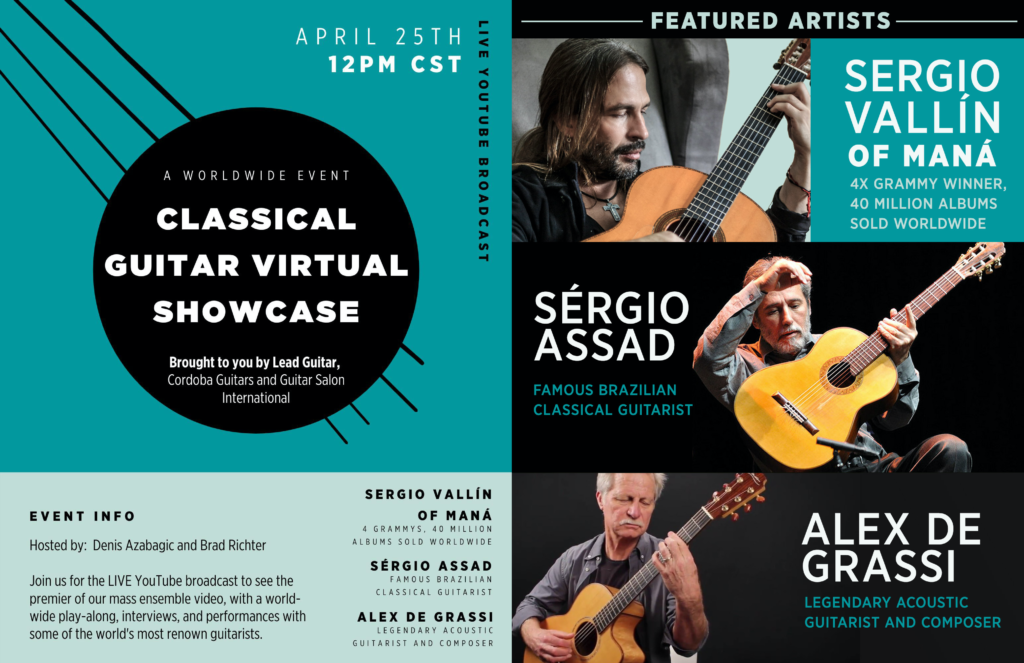 Cordoba Guitars is partnering with Leadguitar.org to host a CLASSICAL GUITAR VIRTUAL SHOWCASE CONCERT.
Join SERGIO VALLĺN of MANÁ, ALEX DE GRASSI, SÉRGIO ASSAD, and a world-wide orchestra of guitarists perform live on YouTube, APRIL 25 at 12PM Central. This live, interactive broadcast will feature interviews, performances, audience questions, and a global play-along to celebrate the initiatives of Lead Guitar and their partners (Cordoba Guitars, Guitar Salon International Foundation, and Arizona Arts), as they work to provide at-home-access to music for kids in tough circumstances.
Lead Guitar is a not-for-profit that builds free, sustainable classical guitar programs in schools with low arts access, and more than 80% of students eligible for free/reduced lunch. Cordoba Guitars and Guitar Salon International are helping make music accessible to students stuck at home by providing at-home access to learning materials and by giving 65 Cordoba C3M guitars to students stuck at home without an instrument.
Normally in April and May, Lead Guitar students in L.A., Chicago, Arizona, Oklahoma, and Colorado would perform in Showcase. These are opportunities for our students, many of whom might be visiting a university campus for the first time, to perform for and celebrate with their friends and families in world-class concert facilities.
Due to COVID-19, Lead Guitar has been forced to cancel those Showcase Concerts for Spring 2020. However, instead of an in-person performance, they will be streaming a worldwide Virtual Lead Guitar Showcase. Current Lead Guitar students will be joined by Lead Guitar graduates, instructors, and guitar players from around the world in playing and videoing themselves playing as part of a mass ensemble.
The event is sponsored by GSI and Cordoba, hosted by Lead Guitar's own Denis Azabagic and will feature some of the world's most renowned guitarists including: Sergio Vallín of Maná, legendary acoustic guitarist/composer, Alex De Grassi, and world-famous Brazilian classical guitarist, Sergio Assad.
This is an opportunity for us to lift each other up through music and give some deserving students an opportunity to shine on a big stage of a different kind. The event will be broadcast live on YouTube, Saturday, April 25th at 12pm CST U.S. See you then!