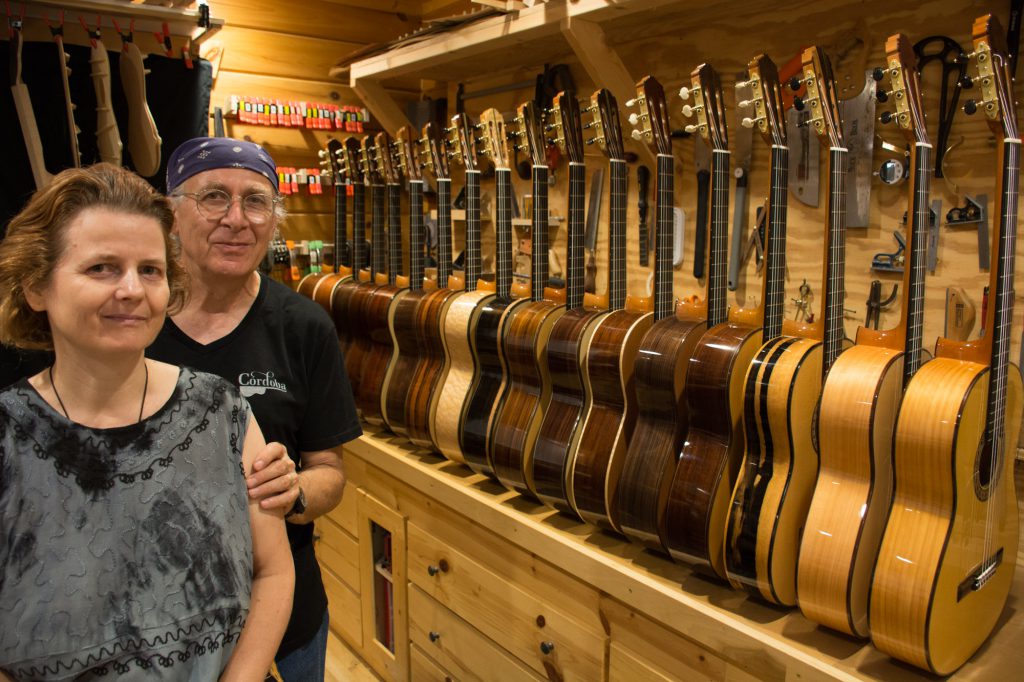 We're constantly being asked, "Where can I buy that custom Córdoba guitar I saw at NAMM or on social media?" The answer is almost always: All Strings Nylon.
You may have heard of All Strings Nylon. Between their huge selection of Córdoba guitars and ukuleles (one of the biggest in the world), impeccable setups (which are included free of charge in every purchase), and habit of acquiring many of the handmade, custom Master Series guitars created by our team in California, All Strings Nylon has made a name for themselves as the place to go to if you're looking for a nylon string guitar.
We chatted with Chuck and Magz Marfione, owners of All Strings Nylon, about what it's like to own a successful business. Keep reading to learn more about this incredible store, and make sure to check out their new website (they're running a killer promotion right now on the Luthier and Master Series. And, sign up for their mailing list for a chance to win a three-month subscription to ArtistWorks interactive online lessons).
Tell us a bit about All Strings Nylon—how did you guys get started? How long have you been around?
We're a fairly new company. We just celebrated our third year in business. It seems like we have been around forever…but I mean that in a good way. We've forged so many substantive relationships with customers, and suppliers such as yourselves, and colleagues in the industry, not to mention all of the IT professionals who helped us build our website, that it's hard to think back to when it all began. Needless to say it's been an exciting journey.
All Strings Nylon started out as just a casual and playful sideline to our lutherie endeavor. We were looking for a way to augment our guitar building income and decided to offer tuning machines and a few sets of strings on our Marfione Guitars website. That's when we hooked up with you folks and ordered a few sets of Savarez strings to add to our modest product lineup. We started to get a few orders and we began to lay the groundwork for a stand-alone website offering strings and accessories dedicated to the nylon string instrument player, and All Strings Nylon was born. One thing led to another, and before we knew it we were ordering a few ukes, then a few guitars, then a few more ukes, and a few more guitars. And here we are, one of your largest independent dealers and loving every minute of it.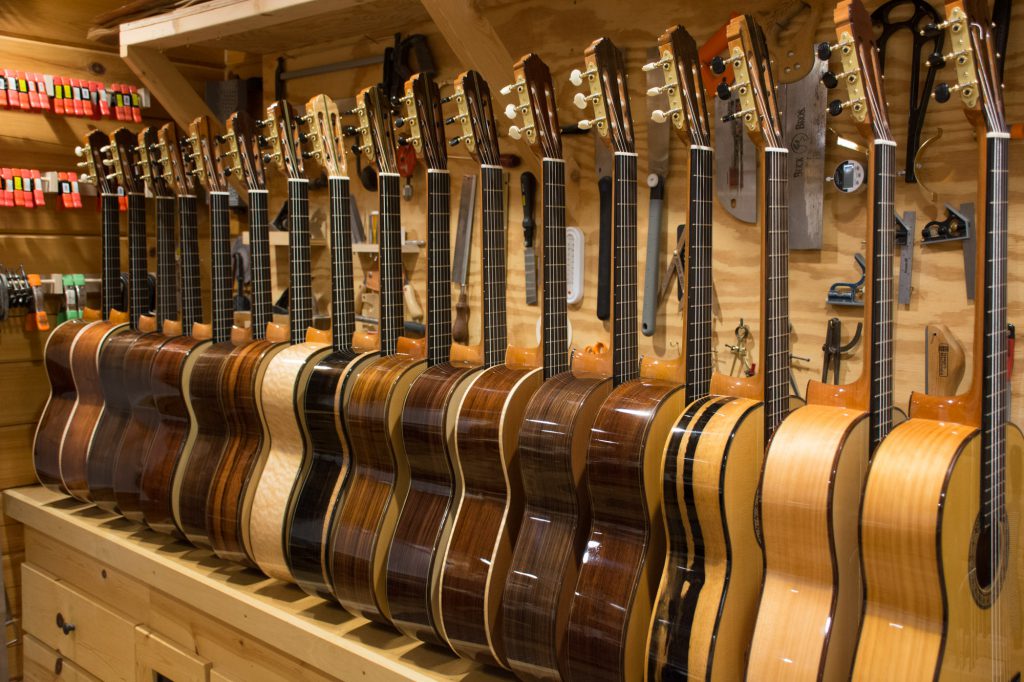 You're also a guitar luthier…how does that come into play as a guitar dealer?
Being both a luthier and a dealer in a sense allows me to establish an interesting internal dialogue between these two sides of me, actually three, as I'm a player as well. As a dealer I'm considering the business aspects of buying and selling guitars and making sure our clients are getting the very best we have to offer in terms of quality and level of service across all aspects of our business. But it's as a luthier and a player that I really get to know the guitars that come through our doors. I evaluate every guitar we acquire. And it's as a luthier and player where each instrument starts to establish an identity all its own in my mind, which then enables me to make informed recommendations to our clients. Offering guitars online is no easy task, as any prospective client is putting a lot of trust in us. Yes, they see photos, and videos, and read all the descriptions and specs, but they don't have the guitar in their hands. Essentially, they are buying an instrument sight unseen based on my recommendation. With that in mind I make it a point to spend a lot of time with our clients on the phone, asking lots of questions, because ultimately they are depending on my sensibilities and skills as both a luthier and player to make that crucial decision whether or not an instrument is worthy to be shipped to them.
You have one of the largest selections of Córdoba guitars in the country. Why Córdoba?
There's no shortage of nylon string guitars on the market today, which means there's lots to choose from. But in terms of quality and selection under one brand, the Cordoba lineup is second to none. Essentially there's a good quality guitar at every price point, for everyone from the beginner to the professional; but it goes beyond that – these guitars have spirit. Whether it be an inexpensive C7, or a one-of-a-kind Master Series Limited Edition, each and every one in their own way is the embodiment of the Spanish guitar tradition; I can hear it and feel it in every one I pick up, whether it be a traditional classical, flamenco, or crossover guitar.
ASN stocks the most limited edition Master Series guitars in the world. What's been your favorite one to date?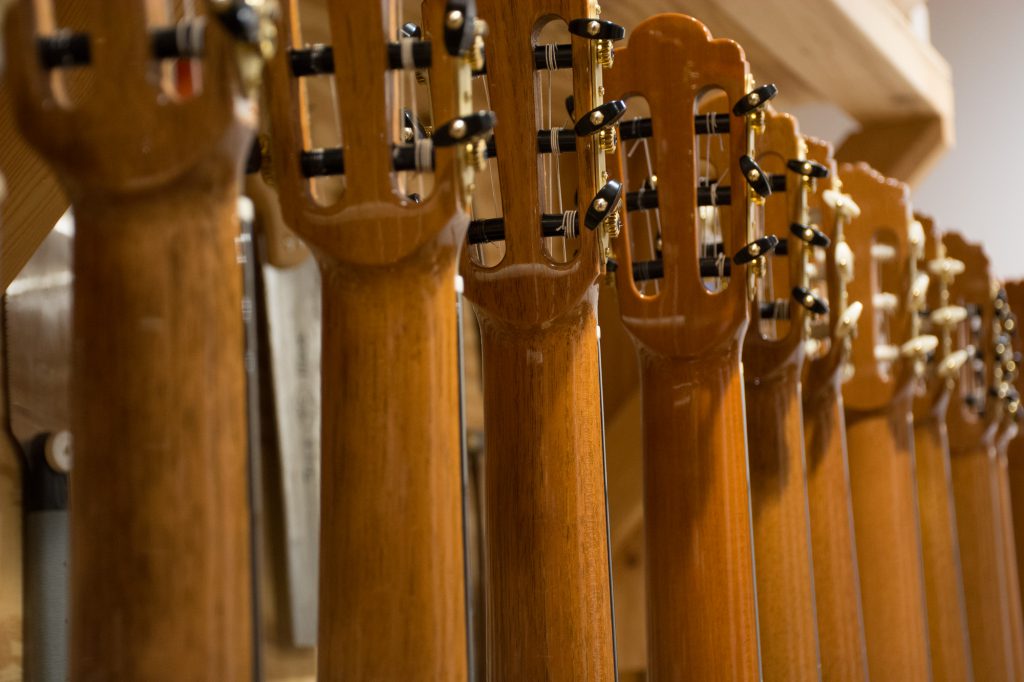 That's really tough because we've had so many great ones come through our doors. Two that do stand out though are a Madagascar Rosewood Torres and a Quilted Maple Hauser. Both of these instruments have exceptional tonal characteristics. The Torres is just an amazingly loud guitar for such a small body with clear and strong basses and sweet trebles, a very well balanced instrument with a surprising growl in the bass register. The Hauser is an incredibly well balanced guitar, tonally uncolored, and very responsive to right hand positioning, making it a guitar for the expressive player. The sound of these guitars makes them very desirable instruments. However, to top things off, they are absolutely stunning instruments to look at. The Torres Madagascar rosewood back and sides set and spruce top set off by traditional Torres style purfling and rosette is just a feast to the eyes. The Hauser is even more amazing. An unbelievable quilted maple back and side set with figure that is so three-dimensional you would think it's a meringue, all set off with traditional Hauser purfling; absolutely stunning.You also stock and set up tons of Córdoba ukuleles. Do you have a favorite series of Córdoba ukes?
I'm falling in love with the 24 series ukes. Great sounding and playing uke, a dream to set up, and they look fantastic! The spalted maple figure is incredible, and it's wonderfully book matched. I build some pretty expensive Romantic guitars with some far out woods employing laminated sides and backs, so I can really relate to the artistic statement being made with these…and Cordoba is doing it for thousands less than I am.
You guys recently revamped your website. Why did you decide to do that? How will it benefit your customers?
Our website is our calling card to the World, so it makes sense to do whatever we can to make it easier for visitors to use it. For us, the "User Experience" has always been first and foremost. We've done a complete facelift and put a lot of effort into site navigation through our Quick Product Finder and tightened up our catalogue and product pages to make them easier on the eyes and to use. A clean, sparse site is important to us, and we know that our visitors appreciate not being barraged with tons of pop-ups and offers hitting them in the face with every move they make on the site. Our goal is to convey our messages to our viewers as simply as possible. Another key area of focus was our Knowledge Base, which continues to grow. There's a lot of useful information in our KB in the form of tips and guides to help users make more informed decisions before purchasing….and there's a lot more to come. A big step forward for us was enhancing our mobile capability with an improved responsive design. With the growing number of visitors using mobile devices to hit our site, we want to make sure that when they do, their mobile experience is on par with what they would encounter on a desktop computer.
Do you have a favorite experience with selling and parting ways with a Córdoba? Master or otherwise?
I always have mixed feelings when parting with one of our Cordobas, Master Series or otherwise. We work closely with you folks to acquire the best-of-the-best from your inventory. We really get to know each guitar. It's not a 55FCE Ziricote, or Macassar, it's the Ziricote with the hourglass sapwood that plays like a dream, or the Macassar with the dark streaks with those chocolate sounding basses. I think you get the picture. While we are always happy for the sale, and equally as happy for the satisfied customer, I'm still sorry to see certain guitars go because I've somehow gotten attached to them. On the other hand, as a result of a sale, or sometimes even an inquiry, we have developed a rapport with the customer, that goes beyond the normal dealer/customer relationship…and that is extremely rewarding.
Stay up-to-date with ASN via their Facebook, Instagram and Twitter!