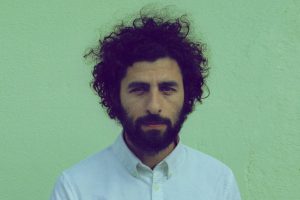 In this month's issue of Guitar Player, Swedish indie-folk singer/songwriter José González disucsses his latest album, Vestiges and Claws. González had an interesting approach to the album, opting to do a lot of the work himself:
"I decided to produce and mix the album myself so that I could concentrate on making the songs that way. Although I did record a few things in my big studio, I worked on a lot of the alubm in my kitchen at home, and there's something that happens when you don't have other people around that can help make things more soothing and mesmerizing. I also wanted to explore slightly more lo-fi sounds, because I'm inspired by the Microphones and other bands who sound like they're working at home in their own little world."
When asked if he plays with a pick or with his fingernails, González responded, "When I'm on tour, I use a nail strenghtener from OPI, because after about three shows, my nails need the help. I also change my strings maybe once a year, because slightly used strings are easier on my nails."
Lastly, González discussed the guitars he used for the album:
"I always try to find the guitar that has the best resonance for the song. For example, my Loriente (Clarita) nylon-string resonates in the key of G, so I used that guitar on 'Open Book.' I also played Esteve, Alhambra and Córdoba classical guitars."
Check out Vestiges and Claws here. And make sure to check out González's performance at the Córdoba Guitars Lounge here!