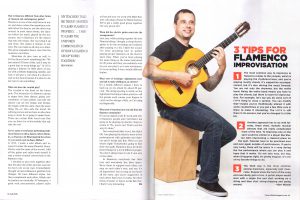 Córdoba artist Ben Woods was recently featured in Classical Guitar's most recent interview. We love Ben and all of the amazing demos he's helped us with over the years! And Classical Guitar writer October Crifasi seems to be a fan as well, writing:
"With an impressive list of flamenco and hard-rock collaborations and performances to his credit, Woods has crafted a unique and much sought-after sound and niche for himself, often referred to as 'flamenco metal.'"
Ben is pictured playing his Córdoba 55FCE, and discusses how he discovered and studied flamenco music and the intricasies surrounding improvization and collaborating with vocalists and dancers.
"In flamenco, everybody has their turn and everybody has their space. We're there to support each other, not step on each other's toes, and yes, it's all improvised, but as long as you know all the rules, and you're supportive of each other, that's how it works. No other forms of music or dance work like that. I find it very interesting."
You can read the full article in the lastest issue of Classical Guitar Magazine. More info on Ben Woods and his 55FCE on our website and YouTube channel!