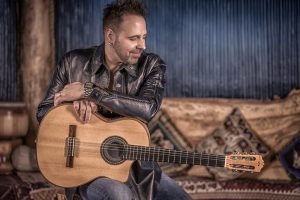 Córdoba artist Dave Martone has been mixing the nylon and electric genres together for decades; along with creating a unique, signature sound, Martone works for the National Guitar Workshop and conducts clinics through Berklee College of Music. He's about to release his next studio album, Nacimiento, later this month. Since Martone has been playing Córdoba guitars for years, we thought we'd ask him a few questions about his gear, his career, and his forthcoming album!
CG: What were your goals when you set out to write/record this album?
DM: To be honest, I did not plan on making this album. I was supposed to release another electric album with my label, but was struggling with inspiration and couldn't complete it. At the same time I was performing weekly in Vancouver playing solo nylon gigs, and wanted some accompaniment so I started to make some basic tracks in my studio to play along with.  I found it fun and started to make them more polished instead of just demo's
Then I started to do full songs, and re make covers for another group I play in called KaDaBrA.  What I would do would be to demo up the songs for the band, then write a chart out for us to perform at gigs.  This was how it came about. I pushed forward and before you know it, I had 16 complete songs.
CG: Did you do a lot of composing on your Córdoba?
DM: I have been using my main Córdoba (pictured) for recording and performing. I had my tech Barry Ewart do a few things to it for my liking and have been using D'addario strings on it with Planet Waves Cables. It is on many of the tracks on my new release from Magnatude/Magna Carta Records.
CG: What comes first, lyrics or melody? Does your Cordoba ever inspire you to take a song in another direction?
DM: Well, for me, there are no lyrics on this album so it is more a question of, is it the harmony or the melody that comes first. What happens is I try to intertwine them together to hear what both parts would sound like simultaneously.  Kind of a finger style technique.   Then I would break it down father into separate parts after I have the working form of the song.  I would then work on different voicing's for the chords and tweak the melody further to my liking. For me, sound is what is important. I have many electric guitars, but only a few acoustic guitars.  Each guitar has a certain "colour" and I know what colour is needed for each song. So to me, having the right strings on the guitar, and playing it with the proper tone variables/hand placement will help the song come out.  I will play a part over many times in the studio, until it "feels" correct. To me it could be technically perfect, but be cold and not breathe. It has to breathe way more importantly than be technically perfect.
CG: Your new album seems very heavily flamenco-influenced. What were some of your musical inspirations for the album?
DM: Well, it has an underlying spanish feel for sure! I started off when I was young on playing classical guitar. It has been with me for my entire life.  I have focused much of my carrier on the electric guitar, but to sit and play a nylon string, with just a bit of reverb through my amp is breathtakingly inspiring.
Nacimiento will be released on May 19, 2015; check out Dave's website and Facebook for more information. And here's a little teaser of the upcoming album!